Comrades, Avenge Us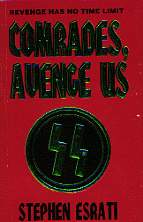 Comrades, Avenge Us
by Stephen G. Esrati
ISBN 1-896329-24-1
393 pages
$7.50
This novel, based on real life events and people, is about the search for Nazi war criminals who preyed on Americans, Canadians, and other Allied POWs.
An ill-fated mission. . .
Major John Bowles and Major William MacNaughton lead an O.S.S. team 
into Northern Yugoslavia near the end of World War II.
A desperate enemy. . .
The team is captured, the surviving enlisted men decapitated.  
Bowles and MacNaughton are spared by SS Lt. Gen. Friedrich Ritter 
von Gail, who seeks to use them to escape the partisans.
The February 26th Group. . .
A post-war Nazi hunting organization founded by Bowles and 
MacNaughton to answer the cries of the dead. . .
COMRADES, AVENGE US

Back to