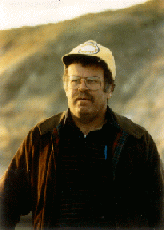 As a young man, Donald studied architecture at Montana State University. In spite of the department's encouragement, he decided he wanted to "help people," so he transferred to the University of Montana to major in psychology, speech pathology and audiology. These departments also encouraged him to do something about his atrocious writing skills.
Writing demands continued to haunt him in graduate school at the University of Iowa, where he was majoring in speech-language pathology. Finally, he went to war. With his advisor's encouragement, he signed up for a writing class.
"Creative writing - fiction, will that be okay?" he asked his advisor.
"Whatever it takes," his advisor responded.
About the third time the writing professor wrote, "Show, don't tell" followed by a so-so grade, Donald began to understand show, don't tell! That was when he started making the cowboys in his stories talk occasionally instead of telling the reader that they were tall, silent types.
Donald isn't tall, silent nor is he a cowboy, but he finally has time to ride his horse since he retired from his life's work as a public school speech-language therapist. His retirement has been short-lived, however, because he recently began working part-time for Prentke Romich Company. They manufacture and sell computerized devices for handicapped people who have language and cognitive skills, but cannot talk due to disabilities such as cerebral palsy and brain injury. These devices, configured on an individual basis, have speech synthesizers that respond when the User touches select icons.
He discovered an interest in writing stories portraying father-child relationships, involving both conflict and joy. One of his favorite characters is a lot like his daughter, Kristina, who loved playing basketball in high school, even though she was very short and spent a lot of time on the bench, unless her team was WAY ahead in points! Last year she graduated from the University of Montana with high honors. She is a member of Mortar Board National Honor Society, and Phi Kappa Phi Honor Society. At graduation, when she came strutting out with all of those colored ropes on her gown, her dad cried (Donald, that is).
Donald also likes to develop characters similar to his son, Mickey, a nationally rated free-style ski racer. At Senior Nationals, 1997, Snow Bird, Utah, he needed one more run with at least an average score to qualify for the U.S. World Cup team. He figured he was "shoo-in," and decided to try a new trick on his second air. He fell, no score. Darn, that same dad cried again.
Later Mickey somehow lost his racer's edge after appearing in Warren Miller's "Snowriders II movie," 1997, as both a skier and a narrator. Expect to find Mickey waiting tables in Hollywood soon.
Donald has had some success publishing his writing (and artwork), including:
"Jamming in the Sandbox" for Fathering Magazine
Rush, Jack (author) and Price, Donald (illustrator). "What, No Dog?" Fur-Fish-Game: Harding's Magazine (September 1995), pp. 16-19.
Awarded appointment, by way of juried selection, to the Billings, Montana YMCA's The Writer's Voice Community Workshop, 1994.
"The Savagery of Dolores Pretty Otter" in Montana Trails (Number 3, Fall 1977), pp.24-26.
Freilinger, Joseph and Price, Donald. Integrating Parent Attitudes and Speech Clinician Goals into Programs for Children with Communication Disorders, Iowa State Department of Public Instruction document, State of Iowa Printing Office. Des Moines. 1967
---
Donald is hoping to find a home for a book consisting of a compilation of his short stories called IF YOU'VE GOT THE TIME - The 11 short stories portray father-child relationships, relationships of sorrow, conflict, courage, fear and humor and of joy, of course. These stories are set in an array of times, places and circumstances. Some of the stories are written from a child's point of view, but most are from the father's point of view. A complete proposal and text of the book are available from Donald Price.
Samples from some of the short stories follow: