The Ghosts of Okinawa
Second Edition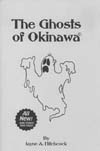 The Ghosts of Okinawa
by Jayne A. Hitchcock
ISBN 4-990-00359-5-X
April 2000 by MHS Printing (third printing)
30 pages
$7.00
Read a SAMPLE from The Ghosts of Okinawa
You wake up in the middle of the night, terrified, frantically looking in the dark corners of the room for what scared you. Was it a nightmare? Was it something you ate? Or . . . was it a ghost?
People of all ages, from all ages, have been fascinated with the supernatural.
Look at Nostradamus. Harry Houdini. Sir Arthur Conan Doyle. Abraham Lincoln. Alfred Hitchcock. Today, you can find several television shows about the supernatural and unexplained: PSI Factor; Unsolved Mysteries; A&E's Castle Ghosts of England; Sightings; Real Ghosts; and even HGTV(Home & Garden TV) does a special each Halloween about ghosts.
Books and articles in the United States have focused on ghosts from the United States and Europe, but very few are about ghosts in Japan. Okinawa may be a tiny Japanese island in the Pacific, but it has enough ghosts to scare the pants off anyone, even skeptics.
The stories within the pages of The Ghosts of Okinawa are just a few of the many told all over the island. Some were experienced by the author, others were firsthand accounts, and some are well-known legends. Also included are 12 black and white photographs, one includes an image of what the author believes is a ghost or spirit from a seance she participated in . . . on Halloween, no less.
For those who believe in ghosts, welcome. To those who do not . . . you just might change your mind after you experience The Ghosts of Okinawa.
Read reviews of The Ghosts of Okinawa.
Back to