Irene: Chronicle of a Survivor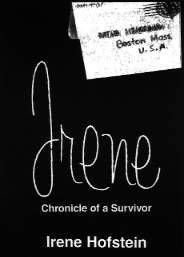 Irene: Chronicle of a Survivor
by Irene Hofstein
177 pages, hardcover
1997 October 28
ISBN 0884002004
Published by:
Shengold Books - An imprint of Schreiber Publishing, Inc.
51 Monroe Street, Suite 101
Rockville, MD 20850
Tel.: (301) 424-7737 / Fax: (301) 424-2336
E-mail: spbooks@aol.com
Distributed to the trade by NATIONAL BOOK NETWORK
1-800-462-6420
$18.95
The true story of a teenage girl's lifelong feelings of love and loss for her beloved grandmother and childhood Berlin.
Uprooted in 1939 at the age of 18, Irene Hofstein and her mother emigrated to the U.S. But despite arduous attempts, they were unable to secure a visa for Irene's grandmother, Jenny, who ultimately perished in Auschwitz in 1943.
The book contains a series of poignant letters from Irene's grandmother, left behind in Berlin, to Irene and her family, who were trying to build a new life in Boston. These letters provide a keen insight into Jenny's and Irene's parallel feelings of hope and despair, their courage as each adjusts to new circumstances and, above all, their powerful love for each other.
Irene Hofstein has had several successful book signings, most notably at the Holocaust Memorial Museum in Washington on October 18, 1997. The book has been favorably reviewed by newspapers, including the Boston Herald

Back to