Pj Belanger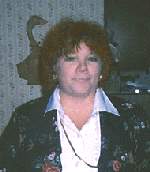 Pj Belanger was born in Manchester, CT and grew up in East Hartland, CT. She was always an avid reader, especially of science fiction.
She says, "My father collected every bit of science fiction he could find - we would talk for hours on the subject. Since it was the 'Golden Age of Science Fiction,' I learned to truly enjoy the genre. All the great writers, from Heinlein to Jose Farmer to Asimov to Bloch, were my idols. They were great storytellers. Of course, then came Tolkien and I was hooked on fantasy, too."
Pj also loved to write.
"I wrote my first novel when I was in the fifth grade. I wrote it for a friend who was ill and I would read it to her by her bedside - poor girl - a captive audience!"
Pj graduated from St. Francis College in Maine with a Double Major in English and History. Pj also attended Worcester State Graduate School. She has worked in various capacities in the fast-paced newspaper advertising industry, but has always been a prolific writer of short stories, novel length books of fiction, romance and general interest.
"I really didn't get serious about making writing a career until I wrote my Trilogy, The Houses of Storem," Pj adds, "When I worked at the newspaper, the deadlines were so hectic all I could manage was short stories and articles with a few romances thrown in. My first Storem book, Volume I, The Thunderstone, is out now with Volume II, The Treachery, coming out the summer of '98, followed by Volume III, The Triad. The series is full of wizards, dwarfs, True Kings and Icelanders and packed with action."
Pj is also deeply involved in the writing of NASCAR Driver Profiles and has a book out on The History of Stafford Motor Speedway.
"I love auto racing in general, but I really love short tracks, both asphalt and dirt. Every driver I've interviewed I have found fascinating. It takes so much dedication to drive even at the local level that I stand in awe of their achievements."
The History of Stafford Motor Speedway turned into a labor of love for Pj.
"I got caught up with how the race cars have changed from Midgets to Cutdowns (early Modifieds), to Stock Cars. There was so little known about these cars I had to find quite a few 'old timers' to learn about them. I was amazed at how even the fans have changed! It turned into more than just a history of Stafford -- it turned into a history of how racing itself has changed."
Pj is continuing with her driver profiles including branching out into the Busch North Drivers and with doing the history of other tracks.
"I'm also producing a guide book (out in the Spring of '98) to the tracks in New England. We have so many interesting, diversified tracks here."
Pj lives in Connecticut with her husband, Roger, and two sons, Bob and Nate. They share the house with a loveable but huge Great Dane named Bear and a bruiser of a cat named Sylvester. Pj is also a columnist for the Waterbury Sports Page.
You can reach Pj at Red Rock Press.
Return to