Tim Riley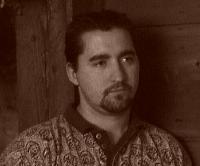 Tim Riley was born and raised around the streets of Philadelphia where he continues to live and work today at the age of 30. It took a solid decade of urging by those who had read short samples of his writing to finally prompt him to write his first book, "Razorblade Milkshake," which he recently completed.
The story is set in the sometimes harsh enviroment of the City of Brotherly Love and details the emotional journey of a man, Cole Williams, who finds himself in the position of "playing father" to the daughter of a dear, dead brother. After being paroled from prison to take on this task, he learns a dark secret about his brother that he initially is unable to deal with. This denial leads him down a troubled path and may cost him everything he now holds dear and any chance at validating his own life. He may learn that his only chance of turning his life around is to trust those around him.
Tim has polished the manuscript and begun converting it into a screenplay. He is also in the process of developing outlines for future novels.
He lives in a South Jersey town with his wife, Amy, and nine-year-old daughter Christina.
Tim says he can feel the life of a writer "just around the corner" and waits anxiously for everything to fall into place. In the meantime, he continues to loyally follow the Philadelphia Eagles and enjoy the actual process of writing, whether he is published or not.
Tim never misses a chance to tell the short story of the "Turtle and the Scorpion" to friends. In fact, he has a picture of the parable tatooed on his shoulder. When asked to include the story here, he simply replied, "I only tell the story face to face."
Unless, by chance, it finds its way into a future book.
(less than 30 seconds with 14.4 modem!)
You can reach the author by emailing Tim Riley.
Return to