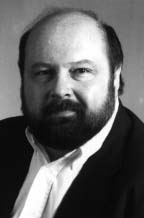 Wendell Mayo was born in Corpus Christi, Texas in 1953. He completed his B.S. in Chemical Engineering in 1975 at Ohio State University; his B.A. in Print Journalism in 1980 at the University of Toledo; his M.F.A. in fiction at Vermont College; and his Ph.D. in Twentieth-Century Literatures in 1991 at Ohio University. He teaches fiction writing, form and theory of fiction, and modern and contemporary literature at Bowling Green State University, where he is Director of the Creative Writing Program.
Wendell is the recipient of a National Endowment for the Arts Creative Writing Fellowship for 2000-2001, and author of four books of fiction:
CENTAUR OF THE NORTH, a collection of short stories, (Arte Público Press, 1996; forthcoming in 2nd edition), which was the 1997 winner of the Aztlán Prize, sponsored by Rudolf and Patricia Anaya and the University of New Mexico, and a finalist in the Violet Crown Book Awards and the Associated Writing Programs Award Series in Short Fiction

IN LITHUANIA WOOD, a novel-in-stories (White Pine Press, 1999)

B. HORROR AND OTHER STORIES (Livingston Press, 1999)

PAUKSTIS GIESMININKAS (English: Songbird), translated by Diana Alioniene, for publication in Lithuania by Ceklis Press (forthcoming).
Wendell's short stories have appeared widely in over 70 magazines and anthologies, including the Yale Review, Harvard Review, Missouri Review, Indiana Review, and New Letters. He has been awarded lectureships seven times by the Ministry of Education of the former-Soviet Republic of Lithuania and the American Professional Partnership for Lithuanian Education. He has also published on the poetry of Antanas Baranauskas; the fiction of James Joyce and John Cheever; and the films of Ingmar Bergman. His awards include a Master Fellowship from the Indiana Arts Commission; the HarperCollins Fellowship; resident writer appointments at the Djerassi Foundation, Yaddo Edward F. Albee Foundation, and Millay Colony for the Arts; the Eyster Prize ; and First Prize in the Mississippi Valley Review Fiction Competition.
For more information, please e-mail Wendell Mayo
Return to