Jonathan Winters - After The Beep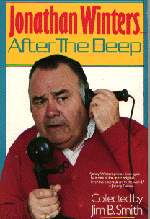 Jonathan Winters - After The Beep
by Jim B. Smith
ISBN 0-399-51535-6
1989 by Perigree Books
128 pages
$6.95
It's Jonathan Winters. . .After The Beep!
From the answering machine of Winters' best friend, Jim B. Smith, come hundreds of brilliant bits from the King of Improvisation.

Country star Malcolm Silworse wings "I'm on a Charter Bus Going' Nowhere" and "Your Brains Are Strung Out on the Clothesline of Life"

"Doctor" Winters gets on the line to explain how he performs frotnal lobotomies - with a True Value© type of drill

Chester Honeyhugger, the psycho-tot, announces his arrival at the airport with a dead dog
If you're one of the hundreds of thousands of fans who have laughed at Jonathan over the years, you'll have to have this book!
Back to
All material on the pages herein are Copyright 1995-2001 Shiba Hill, unless otherwise indicated, and may not be used for reproduction or copying of any kind without prior written permission from Shiba Hill.